Are you getting ready to list your Brentwood home for sale this fall or winter? If so, you're in a good position — prices of Brentwood homes for sale have increased by 16.7% since September of 2020, and many homes are still selling for over list price here and in other Los Angeles neighborhoods.

While you'll likely have fewer challenges selling now than you would in a market that is less competitive, you still need to make efforts to ensure your home stands out from the competition and appeals to your ideal buyers. One of the best ways to do that is to stage it.

Here's some more information on what staging is, why it's important, and steps you can take to make your house shine.
What is staging and why should you do it?
Staging is the process of redecorating and adding, removing, or rearranging furniture in Brentwood homes for sale to make them as desirable as possible to potential buyers.

During the staging process, you will also ensure that each room in your home has a designated purpose that is obvious to buyers. For example, if you have a spare bedroom that you are currently using as a gym/storage space, you can return it to its original purpose by staging it with a bed, dresser, and bedside table, or you can turn it into a dedicated home office with a desk, computer, and filing cabinets.

Though staging may be time-consuming (or expensive if you choose to hire a pro), it's well worth the investment. Real estate agents state that staged homes consistently sell for 1-5% more than those that are not staged, and they can sell up to 88% faster. That means that if you are selling a median-priced Brentwood home for $807,500, you could get up to $40,000 more for your property, making it a worthy endeavor whether you stage it yourself or hire a professional to do the job for you.
Staging steps for Brentwood homes for sale
Convinced you need to stage your home so it can be competitive against other Brentwood single family homes on the market? Here are some steps that will help make your staging endeavor a success.
Step 1: Declutter
The more open and organized your home looks, the more appealing it will be to prospective buyers of Brentwood homes for sale. Remove any belongings that you don't need immediate access to and that are taking up unnecessary space. This includes extra clothing, knickknacks, small appliances, papers, books, and anything else that is cluttering up countertops or storage spaces. If you have not yet bought your next home, rent a storage space so you can store your items out of sight.
Step 2: Depersonalize
One of the main goals of staging is to help prospective buyers of Brentwood single family homes visualize themselves living in your house. This is difficult for them to do when you have highly personal or unique décor, such as framed family photos, sports memorabilia, or religious items.

In addition to removing these items and putting them in your storage unit, you will also want to repaint any rooms that need a refresh or that have been painted in trendy colors. Opt for neutral colors like tan, beige, grey, and off-white that will go with any type of décor.
Step 3: Deep clean
Hiring a professional cleaner is a worthy investment when it comes to staging Brentwood homes for sale. A cleaner that specializes in preparing homes for the market will have the equipment and supplies needed to make your home shine and will also know which areas of your home need the most attention.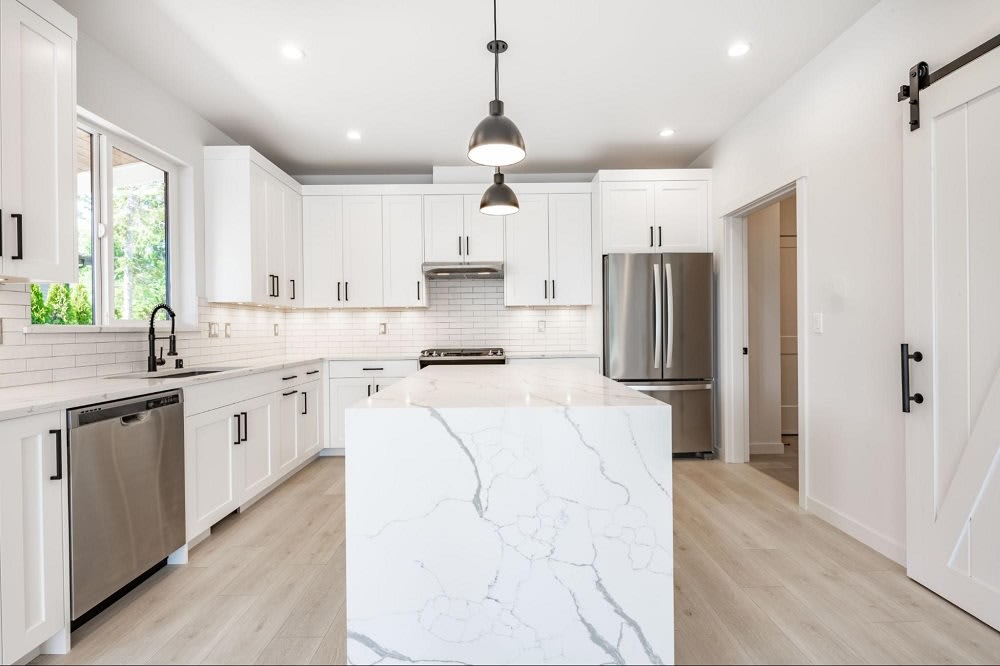 Step 4: Remove large or too much furniture
Bulky pieces of furniture or just too much furniture in each room can make areas look small and cramped. During this step of the staging process, go through each room and make sure each room only has the furniture necessary for its purpose.

For example, a bedroom only needs a bed, bedside table, and dresser. If rooms still look crowded, consider swapping out large pieces of furniture for lighter, smaller versions.
Step 5: Don't forget the curb appeal
Staging should not be limited to the inside of your home. To create a good first impression for buyers of Brentwood single family homes, you need to boost your curb appeal by attending to the exterior of your property.

Make sure your lawn, shrubs, and trees are trimmed and tidy and that there is no visible damage to your walk or driveway. If you don't already have outdoor furniture on your front porch, add some quality pieces and consider repainting or replacing your front and garage door. Finally, place some potted plants or flowers along the walkway or near the entrance, hang a welcoming wreath on the door, and put out a welcome mat.
Step 6: Do some final touches
It's often the little things that sell Brentwood homes for sale. Before your first prospective buyer arrives, light a candle or turn on a wax warmer. Set the dining room table with quality linens, dishes, and wine glasses. Put some fresh flowers in vases and place them throughout the home. Finally, turn on all the lights and open blinds and curtains as wide as possible to give your home a bright, welcoming atmosphere. You should also find a place for your pets to go before your first showing and remove signs of them such as beds, toys, or food dishes.

Ready to list your Brentwood home for sale? Focusing on the staging steps mentioned above will help you make your property stand out from the competition and ensure you get the highest offers possible. To get the process started, reach out to trusted Brentwood real estate agent Morton Stafford for expert assistance.