Your 90210 Home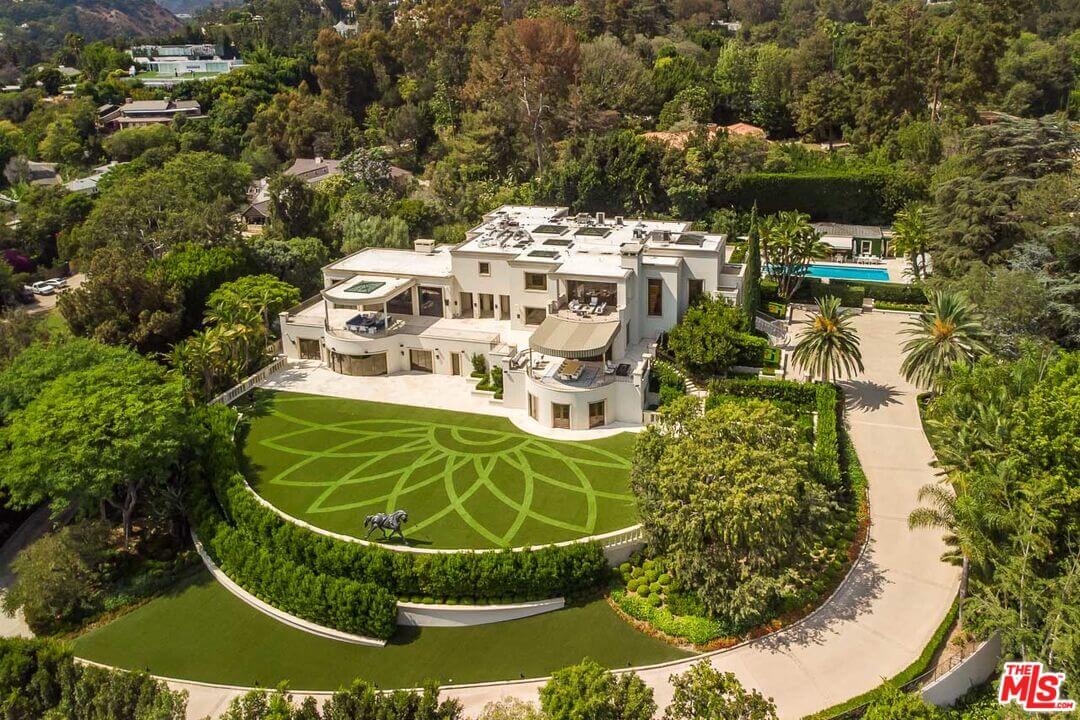 Luxury, sophistication, and glamor are just a few of the words that come to mind when thinking about Beverly Hills.
This world-renowned city is home to celebrities, high-end shopping, and some of the most expensive real estate in the country. As one of the most iconic and well-known cities in the world, Beverly Hills is a popular destination for those looking for luxury and refinement. While it's true that the city has no shortage of high-end designer stores and Michelin-star restaurants, there's much more to Beverly Hills than just Rodeo Drive.
If you're thinking about moving to Beverly Hills, here's everything you need to know.
About Beverly Hills
Beverly Hills, CA, is surrounded by Los Angeles but has a distinct small-town feel. This unique city is home to just over 33,000 people and spans only 5.7 square miles. Despite its size, Beverly Hills is home to some of the most iconic landmarks in the world — like Rodeo Drive, Greystone Mansion, and the Beverly Hills Hotel.
The city used to be the site of legendary streams called the El Rodeo de las Aguas (Gathering of the Waters). In 1907, developer Burton Green subdivided the area into small ranch plots, which are now some of the most sought-after neighborhoods in Beverly Hills.
Moving to Beverly Hills has been the dream of every aspiring entertainer. The first Hollywood movie stars to move into the subdivision were actors Mary Pickford and Douglas Fairbanks. They built their iconic home in Pickfair in 1919.
In 1920, Beverly Hills' population growth boomed by more than 2,000%! Now, the city is home to A-listers, moguls, and business tycoons.
Some of the city's neighborhoods are West Hollywood, Brentwood, Santa Monica, Holmby Hills, Bel Air, Beverlywood, and Rancho Park.
North of Beverly Hills
Let's explore Beverly Hills' neighborhoods in more detail, starting with the northern part of the city. Here, you can drive through the most famous streets like Santa Monica and Sunset Boulevard.
Notable places in the north of Beverly Hills include the iconic Beverly Hills Sign, the Beverly Cañon Gardens, and the Beverly Gardens Park. Where in the area can you find yourself at home?
One of the most expensive and exclusive neighborhoods in Beverly Hills, Trousdale Estates is known for its luxurious homes and celebrity residents. The large lot sizes set the area apart from other neighborhoods, and homes here sit on at least an acre of land.
Another wealthy enclave located in Beverly Hills' north end is the Mulholland Estates. This neighborhood comprises large estates on winding streets with panoramic views of Los Angeles.
The Beverly Hills Gateway is a newer development in the city's north end. The area is made up of large luxury homes, many of which have been designed by world-renowned architects.
South of Beverly Hills
Moving south, we come to the Mid-City District of Beverly Hills. This area is home to some of the city's most popular attractions, including Rodeo Drive, the Beverly Hills Hotel, and the Greystone Mansion. What is it like living in the south of Beverly Hills?
Beverly Hills Doheny SW & SE
The Doheny SW & SE neighborhoods are located in the southern part of Beverly Hills. The area is made up of large, luxury, million-dollar homes. The lots here are symmetrically shaped and laid out on a grid system.
Each block has its own species of uniformly planted trees. Imagine living in a neighborhood of pink cedars, queen palms, and Southern magnolias!
If you're looking for a more commercial area, Downtown Beverly Hills — famously referred to as the Golden Triangle — is the place for you. The neighborhood is home to high-end shops, restaurants, and hotels. The famous Rodeo Drive and the Beverly Hills Hotel are located here.
Living in Beverly Hills
When it comes to finding your 90210 home in Beverly Hills, there's no shortage of notable neighborhoods to choose from! Whether you're looking for a luxurious estate or a more commercial property downtown, there's something for everyone in this world-renowned city. For those interested in moving to Beverly Hills, there are a plethora of activities to keep yourself busy.
Let's get a sneak peek of what it's like in Beverly Hills!
One of the most iconic shopping destinations in the world, Rodeo Drive is known for its high-end designer stores. The three-block stretch of Rodeo Drive is home to brands like Gucci, Louis Vuitton, and Tiffany & Co. People love to dine al fresco, have a cup of coffee, or just let the day go by.
It's not impossible to bump into a celebrity on Rodeo Drive. In fact, it's quite common! You might see a Hollywood A-lister shopping for designer clothes or grabbing a bite to eat. That's just how everyday life is in Beverly Hills.
Dine at Michelin-star Restaurants
Beverly Hills is home to some of the best restaurants in the world. If you're looking for a Michelin-star dining experience, head to Beverly Hills' culinary hotspots like Spago.
Spago — located on Canon Drive — is a Californian-fusion restaurant that has been awarded two Michelin stars. It's Wolfgang Puck's flagship restaurant, and it's known for serving the delectable taste of California cuisine.
The city also has Jean-Georges — an Asian Contemporary restaurant — and Tempura Endo, the top choice for Japanese cuisine. Dining in Beverly Hills holds a different standard that is truly world-class.
Take Your Family and Pets to Roxbury Park
Despite the glamorous reputation, Beverly Hills is a family-friendly city. There are plenty of parks and playgrounds for children to enjoy. Roxbury Park is a favorite among locals. It's a great place to take your kids and pets to run around and have some fun.
The park has a playground, basketball courts, tennis courts, and a picnic area. In the summertime, the park holds concerts and movies for the community to enjoy. Perhaps one of the most exciting events in Roxbury Park is the Woofstock 90210. This annual event is a dog-friendly festival that celebrates all things canine!
Work Out at La Cienega Park
Working out outside is one of the best ways to take advantage of the sunny weather in Beverly Hills. La Cienega Park is the go-to place for outdoor workout stations, providing physically active people areas for full-body circuit training, jogging, and a bunch of other physical activities.
The park also has a playground for the kids, picnic tables for families and friends, and a pet-friendly walking path. La Cienega Park is an excellent place to stay fit and healthy while living in Beverly Hills.
Enjoy the City's Nightlife
Beverly Hills is known for its vibrant nightlife scene. If you're looking to let loose and have a good time, head to one of the city's famous clubs. Some of the top ten most visited nightlife spots in the city are the Honor Bar, Viceroy L'Ermitage Beverly Hills, and Maison 140 Beverly Hills.
Partying in Beverly Hills can be a luxurious endeavor, just like every city's glitzy street — and again, seeing a celebrity or two while you're out and about won't be too surprising!
Beverly Hills is not all about the glitz and glamor. The city is also home to many historical landmarks that are worth exploring.
One of these landmarks is Greystone Mansion, which was built in 1928. The Tudor-style mansion was once owned by Edward L. Doheny, an American oil tycoon. Today, the mansion is open to the public for tours and events.
Another historic landmark is the Beverly Hills Main Post Office. Built-in 1933, the United States Department of the Interior placed the building on the National Register of Historic Places. It is the City of Beverly Hills Landmark No. 5.
Visit Museums and Art Galleries
Beverly Hills is home to many museums and art galleries. If you want to explore the city's culture, consider visiting the UTA Artist Space, Denis Bloch Fine Art Gallery, and Galerie Michael. The city has some of the biggest names in contemporary and fine art.
You can also go to the Wallis Annenberg Center for the Performing Arts for another dose of culture. The center holds hundreds of dance, music, and theater programs, making it one of the most cultural places in Beverly Hills. Another free and open-to-the-public art center is the Academy of Motion Picture Arts and Sciences. Plus, simply walking around Beverly Hills shows you countless public art pieces and sculptures, like the Endless V, 2012 by Jaume Plensa!
Indulge at the Cheese Store of Beverly Hills
When we say Beverly Hills has everything you need, we mean it. The Cheese Store of Beverly Hills is a one-stop shop for all your cheese needs. It's another detail that makes the city iconic because it has a selection of at least 500 different types of cheeses!
Selected by longtime owner Norbert Wabnig, the cheeses come from all over the world. The shop is known as "Mecca for cheese aficionados," and it's easy to see why!
Catch the Beverly Hills Farmers Market
If you're looking for fresh, locally-sourced produce, honey, and artisanal goods, you can trust the Beverly Hills Farmers Market. The market is open every Sunday from 9:00 AM to 1:00 PM at Crescent Drive and Canon Drive.
You'll find over 50 vendors selling their wares, including produce from local farms, arts and crafts, prepared food, and more. The market is the perfect place to do your grocery shopping while supporting local businesses.
Give Your Kids Top-class Education
Beverly Hills is home to some of the best schools in the country. If you're looking to give your kids a top-class education, it helps to know that the Beverly Hills Unified School District is a top-rated public school district. It is the 18th best school district in Los Angeles.
Generally, residing in Beverly Hills is not just about luxury and fame. It is also about the community, the landscape, and the opportunities that the city provides. Beverly Hills is an excellent place to live for anyone who wants to be in the heart of Los Angeles. With its central location, world-class amenities, and rich culture, Beverly Hills is a city like no other.
Make Beverly Hills Your Home
Beverly Hills is one of the country's most desirable places to live. Nothing compares to the city's luxurious lifestyle, world-class shopping, and top-rated schools.
Morton Stafford has a reputation for unrelenting work ethic, integrity, and honesty backed up by unparalleled knowledge of the marketplace. Our Beverly Hills-based agents are the best in the business, and we're here to help you find your dream home.
Imagine that perfect Beverly Hills property that you can call home in a city that has it all. Interested in checking out a Beverly Hills open house? Contact us today and we'll tell you exactly what's on the California regional multiple listing service.
Going through a Beverly Hills open house is a great way to get a feel for the city. From finding the perfect home to getting the best deal, we'll be with you every step of the way. Get in touch with us today, and let us help you start living the 90210 life!
FAQs
Beverly Hills is ready for you. Are you ready for it? Here are some of the questions and answers about the city.
Is Beverly Hills a Good Place To Live?
Beverly Hills is one of the best places to live in California. It is also the 8th best place to retire in the state! Beverly Hills is known for its luxury homes, world-class shopping, and top-rated schools.
The city is also rich in art and culture, with many museums and art galleries. Moreover, thanks to the city's many parks and recreation facilities, people can have active and healthy lifestyles.
What Salary Do You Need To Live in Beverly Hills?
Beverly Hills sounds and feels like a very expensive place to live. Well, living a high-end lifestyle with glitz and glamor, and world-class shopping and dining options comes with a cost.
Considering the major costs of living in the city, you will need at least twice the national average household income. To fully enjoy the Beverly Hills lifestyle, you will need around $150,000 to $160,000.
Can a Normal Person Live in Beverly Hills?
Absolutely! Beverly Hills is a city for everyone. It has something to offer for all kinds of people, whether you're looking for a place to retire, raise a family, or start a business.
The city is known for its luxury homes. Still, it also has various housing options to suit different budgets. Moreover, there's a lot more going on in the city than shopping, dining, and attending events. You can also enjoy the city's many parks, recreation facilities, and arts and cultural institutions.
What Is It Like Living in Beverly Hills?
Beverly Hills is an affluent city located in Los Angeles County, California. Luxurious, glitzy, and glamorous lives are often associated with the city, but there's more to Beverly Hills than that.
Beverly Hills is also great for retiring, raising a family, or starting a business. The city has many top-rated schools, parks and recreation facilities, and arts and cultural institutions. Housing options in Beverly Hills are diverse, meaning there's a place for everyone in the city.
Surrounded by other affluent cities like Bel-Air and Holmby Hills, Beverly Hills offers a lot more than just luxury homes and world-class shopping. If you're looking for a place to live an active and healthy lifestyle, raise a family, or retire in style, Beverly Hills is the perfect city. The 90210 is waiting for you!